Residential CCTV Solutions
Secure your Home With Camera Installation
Premier Security Systems makes protecting your home simple and stress free.
Our residential surveillance systems work for your whole house – indoor and outdoor, and can include a variety of convenient features.  Either used as a stand alone system or part of a security system, surveillance cameras allow you to monitor and record activity around and in your home.
On Premises Viewing and Recording
Premier offers Honeywell Tuxedo Touch – the industry's leading Touchscreen Keypad that also functions with IP camera around your home.  Keep a watchful eye over children, pets, nannies, elderly relatives, valuables and outdoor areas from any onsite location.
You can view up to four indoor or outdoor IP cameras around your home on the touchscreen , smartphone, tablets or televisions.
Record up to two minute video clips on an SD card – providing you with visual verification of an alarm event or system activity.
High resolution 7" color touchscreen provides a great video viewing experience.  View a single camera or up to four at one time.
We can integrate your camera system into your alarm system for just a small monthly fee.
When the cameras sense motion or your alarm system is set off, a picture will be sent to your iPhone/smartphone so you can monitor your home 24/7.
Wish you could be in more than one place at a time? Now You Can!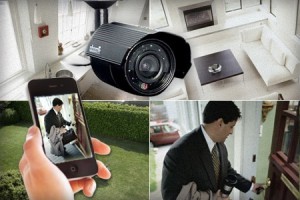 With an easy to use security camera system for your home from Premier Security! And remember, NO Monthly fee for Live Remote View.
Premier stand-alone CCTV systems include an extensive range of cameras including dome, all weather IR, wireless, and IP cameras.  Our security professional will provide a cost effective installation tailored to keeping your home safe.
Each system includes:
Hi-Resolution Cameras with high definition and infrared to ensure a clear picture at night.
Recording Device with high quality playback and generous storage for future playback.
Discrete cabling – all cable are hidden from view, keeping your property neat and free from safety hazards.
Remote access to surveillance system – log in to your system via secure remote connections anytime day or night using your iPhone/Android phone or from any computer with an internet connection.
As all homes are different, our consultant will provide a free onsite survey and consideration will be given to lighting and positioning to increase visibility and security.  Our systems have the capacity to grow along with you, allowing you to seamlessly integrate video surveillance with your security system.
To learn more about our residential CCTV surveillance systems, contact one of our experienced technicians.