UL Security Integrators
Premier Security System of Washington Inc. is a certified UL Alarm Integrator listed by UL in the Service Category of CRZH, National Industrial Security Systems that provides all primary protection for secure areas.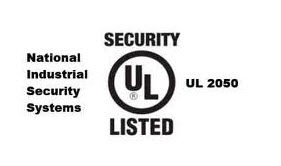 Premier provides, installs, and maintains security systems in accordance with UL 2050 specifications. As a UL2050 security provider, Premier offers services for Sensitive Compartmentalized Information Facilities (SCIFs), Containers, and Closed Rooms including inspections for existing secure facilities.
Alarm signal monitoring is provided by our UL listed 5 Diamond Central Station as part of the required protection. After the facility has been approved, Premier Security is authorized to issue an official UL2050 certification (CRZH).
The certificate ensures that the facility will operate by UL 2050 standards and that Premier will facilitate and confirm that level of operation. To do so, Premier will perform periodic inspections of the facility, as well as Underwriters Laboratories. These inspections are often unannounced and will occur at least once a year by both organizations.
When hiring a UL 2050 company, it is critical to have a security company you trust. Not unlike other services, a good security company should have an extraordinary commitment to quality in installation, service, and response.
Our cleared personnel can perform all aspects of design, installation, and service of SCIFs, secure containers, alarmed rooms, and closed areas at a fee among the lowest in the industry.